EN VIVO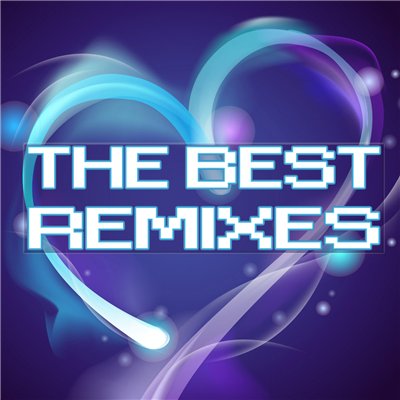 VA
The Best Remixes
:
21.11.2011
Club, Dance, House,
80
476 Min
1075 Mb
320 kbps / 44.1kHz/ Joint-Stereo
tracks!
1. Sneaky Sound System - Big (Oliver Remix)
2. Swedish House Mafia Vs. Avicii - Level One (Daniele Serra Vs. Alex Prigenzi Instrumental Bootleg)
3. Ellie Goulding Vs. Tim Mason, Max Vangeli & AN21 - Starry Eyed (Adrien Mezsi Bootleg)
4. Eddie T - It's Party Time (Alessio Silvestro Remix)
5. Katy Perry - The One That Got Away (R3hab Radio Edit)
6. Swedish House Mafia Vs. S. Ingrosso & Alesso - Calling One (Daniele Serra Vs. Alex Prigenzi Epic Bootleg)
7. Altar Feat. Natalia Damini - It's Over (Tommy Love Vocal Mix)
8. Avesta & B Valley - Dutchano (Laidback Luke Edit)
9. Katherine Ellis, Jolyon Petch, Elektrik Disko, Steve Richards - Nothin' But Luv (Club Mix)
10. Nicki Minaj feat. Rihanna - Fly (DJ Mike D Mixshow)
11. Taio Cruz feat. Flo Rida - Hangover (Quentin Bross Remix)
12. Rosabel, Tamara Wallace - Let Me Be Myself (Danny Verde Remix)
13. Coldplay Vs. Swanky Tunes & Hard Rock Sofa - Paradise Phantom (Rafa Carneiro Festival Bootleg)
14. David Guetta (feat Usher) - Without You (CLX Radio Edit)
15. Yves Larock & The Cruzaders - If You're Lonely (Swanky Tunes Remix)
16. Sarvi - Amore (Chuckie Radio Edit)
17. Solid Base & Robson - Mirror Mirror (Metyou & Robson Remix)
18. Tiesto - What Can We Do (Extended Mix)(w
19. Robbie Groove & Mattias ft Cece Rogers with Master Freez - You Droid (Crazibiza Instrumental Mix)
20. 50 Cent ft Toris Badic - What Up Gangsta In The House (Dj Edo Ossepyan ft Dj Yogurt Mash Up Remix)
21. Avatar One ft. Alexandra Greene - Charity (Barrington Lawrence & Physical Law Remix)
22. Tony Moran feat. Jennifer Holiday - Magic (Bryan Reyes Club Mix)
23. DJ Antoine & Timati & Kalenna vs Jake & Cooper - Welcome To St.Tropez (DJ Max Maikon Mash-Up)
24. Britney Spears - Criminal (HenriqMoraes & Bruno Ramos Remix)
25. Nicky Romero Vs. Calvin Harris - Camorra Flashback (Adrien Mezsi Vocal Edit)
26. Labrinth Feat. Tinie Tempah - Earthquake (Gareth Wyn Remix)
27. Pryda - From Miami to Atlanta (Malo Remix)
28. David Guetta feat. Usher - Without You (Pat Farrell Bootleg)
29. Timbaland Feat. Pitbull - Pass At Me (Tommy Trash Remix)
30. Deejay Advance - She Lives For The Music 2012 (Andytaker Remix)
31. Adele - Rolling In The Deep (Kivanc Onder Extented Mix)
32. Barbara Tucker, Andrea Paci, The Winning Triplet - We Wanna Boogie (Simone Cattaneo & Alex Gardini ReEdit)
33. Alyssa Reid feat. Jump Smokers - Alone Again (Jump Smokers Monster Club Mix)
34. Beyonce - Countdown (DJTing1 Anthem)
35. Andres Cuervo - Love Love Love (Klubjumpers Club Mix)
36. Rihanna (feat. Calvin Harris) - We Found Love (Johnny Tremz Remix)
37. Wayne G feat. Melissa Totten - Beautiful Stranger (Joe Gauthreaux Club Mix)
38. Sophie Ellis-Bextor - Starlight (The Cube Guys Remix)
39. Pitbull Feat. Marc Anthony - Rain Over Me (Dj Ashok Mash-Up)
40. Freemasons feat. Julie Thompson - You're Not Alone Now (Julien kern Remix)
41. CobraBack (Frank Caro & Adria Alemany Mashup)
42. Pink Coffee - Another Brick In The Wall 2012 (Federico Scavo Remix)
43. Erika Jayne - Party People (Ignite The World) (Hector Fonseca Club Mix)
44. Tony Bennett ft. Lady GaGa - The Lady Is A Tramp (Martin & Souza Club Mix)
45. Mig & Rizzo feat. Heidi - Love Slave (Cutmore Club Mix)
46. Coldplay - Paradise (Miguel Vargas Dirty Dutch Remix)
47. Bob Sinclar - Darlin (Mehmet Akar Remix)
48. Swedish House Mafia ft. Tinie Tempah - One Miami 2 Ibiza (Daniele Serra Vs. Alex Prigenzi Vs. Valerio Tonelli Bootleg)
49. Maroon 5 & Christina Aguilera - Moves Like Jagger (Felippe Senne Mix)
50. David Guetta Feat. Sia - Titanium (Alesso Remix)
51. Sway - Still Speeding (Liam Keegan Remix)
52. Funk3d - Back In The Day (Club Mix)
53. Alesso Vs. Florence & The Machine - Drumming Dynamite (Adrien Mezsi Bootleg)
54. Rihanna - We found Love (DJ Kafajest Attack Extended Pride Mix)
55. Anjulie - Brand New Bitch (Hoxton Whores Club Mix)
56. Mary J. Blige - Be Without You (Fresh Tunes Remix)
57. Andreas Romanos - Way To Go (Original Mix)
58. Calvin Harris ft Rihanna vs Chuckie vs Fareoh - We Found Love (Sean Johnson's Hopeful Bootleg)
59. Lykke Li - I Follow Cobra (Quentin Mosimann Bootleg)
60. Lady Gaga - Born This Way (Zedd Remix)
61. Eminem - Till I Colapse (Nightbane Remix)
62. Adrian Lux feat. The Good Natured - Alive (Blende Remix)
63. Swedish House Mafia - Leave The World Behind (Dan Price Remix Edit)
64. Craig David - Insomnia (Dj Amor Remix)
65. Rihanna - Where Have You Been (Apolo Oliver Rework Summer Mix)
66. Benny Benassi feat. Gary Go - Close To Me (Michael Woods Remix Dub)
67. Jennifer Lopez - Papi (Itay Kalderon ,Ortega & Tom Davidson Remix)
68. Tommy Love Feat. Paula Bencini - You Are The One (William Bhall Remix)
69. Missy Elliott - Get Ur Freak On (Stanislav Shik Denis Rook Remix)
70. David Guetta ft Sia - Titanium (Bobby Rock & Pablo Rindt Bootleg)
71. Rebecca Ferguson - Nothing's Real But Love (Radio Edit)
72. Basslovers United - Basket Case (DJs From Mars Remix)
73. Euphoria Project - Last Christmas (Extended Mix)
74. Beyonce ft Dj Soulstar ft Josha Romee - Run The World (Dj Edo Ossepyan ft Dj Yogurt Mash Up Remix)
75. Henrik B & David Tort Vs. R3hab & Swanky Tunes - Love Rocker (Adrien Mezsi Bootleg)
76. Tiesto & Steve Aoki - Tornado (Original Mix)
77. Nirvana feat. LMFAO & Rock Massive - You Know Why You Smell Like Party Rock (Scrab Mashup)(
78. Havana Brown - We Run the Night (Valetto Extended Remix)
79. Javi Reina & Joan Ibanez vs Rihanna & Eminem - Love The Way You Lie (DJ Max Maikon Mash-Up)
80. Caro Emerald - Stuck (Liam Keegan Radio Edit)
BAJALO DE ACÁ
letitbit.net The_Best_Remixes_21.11.2011.rar.html
rapidshare.com The_Best_Remixes_21.11.2011.part1.rar
rapidshare.com The_Best_Remixes_21.11.2011.part2.rar
rapidshare.com The_Best_Remixes_21.11.2011.part3.rar
rapidshare.com The_Best_Remixes_21.11.2011.part4.rar
rapidshare.com The_Best_Remixes_21.11.2011.part5.rar
DIOS




Mensajes

: 240


Puntos

: 10149


Reputación

: 0


Fecha de inscripción

: 04/04/2011



---
Permisos de este foro:
No puedes
responder a temas en este foro.